Full Day Child Care Program, Before and After School Care
ABC & 123 Daycare is a privately owned business that has been caring for children and assisting parents in the Magnolia / Hockley area since 1994.
Melissa Shewbert is the owner and program director and has a certified staff that is willing to assist you with your child's needs.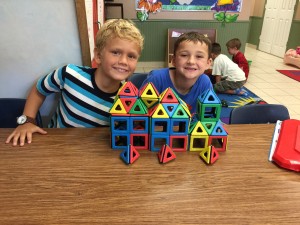 Hours of Operation:
Monday–Friday: 6:00 am–6:30 pm
Admission:
Infants must be at least 6 weeks old. Care is provided for infants on up to school-aged children needing care during weekdays.
Fees (if applicable–not included in tuition schedule):
Application Fee: $50 payable on the day of enrollment. The fee is non-refundable. For children two and above this includes a free cloth mat to sleep on.
Supply Fee: $25 payable in January and June every year.
Late Pick-up Fee: $1.00 per minute late charge starting at 6:30 pm.
Late Payment Fee: If your account balance is not paid by Friday close of business of every week, then an automatic $25 fee is added to your account. (Accounts may not be carried over from week to week or your child may be removed from the program.)
NSF Check Fee: $30 will be charged for any returned check. ABC & 123 Daycare will pursue legal rights to collect on money due.
We offer Full Day Child Care Program, Before and After School Care.
Tuition Schedule:
Tuition includes:  Breakfast, lunch and two snacks
Infants
Toddlers
Twos
Preschoolers (3-5)
Schoolers

(5-10)

Weekly Rate: Full Day Program (6am – 6:30pm)
$180
$170
$165
$150
$130
Daily Rate:  Drop In – Full Day
$40
$40
$35
$35
$35
School in Session:
Full Week Rate:  Before School Only
—
—
—
—
$35
Full Week Rate:  After School Only
—
—
—
—
$85
Full Week Rate:  Before & After School
—
—
—
—
$95
Payment Schedule:
Tuition is due every Monday of each week unless otherwise arranged with Melissa Shewbert. Tuition and fees are different for each family's needs. Additional sibling enrolled in the program will receive a 10% discount.
Print Friendly Full Day Child Care Program, Before and After School Care